The axial length of the eye is the distance from the front of the cornea to the back of the eye and is measured in millimeters. It is an important factor in determining the refractive error of the eye. When the axial length of the eye is too long, it can cause myopia or nearsightedness.
Myopia occurs when the eyeball is too long, causing light to focus in front of the retina instead of directly on it. This results in blurred vision when looking at distant objects. It is important to understand the relationship between axial length and myopia in order to properly diagnose and treat vision problems.
What Is Axial Length & How Is It Measured?
Axial length is an important measurement of the eye that is used to diagnose and monitor myopia, or nearsightedness. It is the distance from the front of the cornea to the back of the eye and is measured in millimeters. Axial length is a key factor in determining the refractive power of the eye, which is how well the eye can focus light.
Methods to Measure Axial Length
When it comes to measuring axial length, several methods are used to accurately assess this important parameter in diagnosing and managing myopia. Here are some of the commonly employed techniques:
It is important to note that each method has its advantages and may be preferred based on the specific needs of the patient and the expertise of the eye care professional. The chosen method should provide reliable and accurate results for effective myopia management.
The Role of Axial Length in Myopia
The length of the eyeball, known as the axial length, plays a crucial role in determining our vision. It influences how light is refracted within the eye. When the axial length is excessively long, it causes light to focus in front of the retina, leading to myopia or nearsightedness.
This refractive error is characterized by difficulty in seeing distant objects while maintaining clear vision of nearby ones. Myopia is a prevalent condition affecting over one billion people worldwide. It arises from a combination of genetic and environmental factors, with the axial length being among the most significant.
Understanding the importance of axial length is crucial as it directly impacts our visual clarity. If you have concerns regarding your vision, it is essential to consult an optometrist to assess the role of axial length in your eye health. By measuring the axial length, eye care professionals can determine the extent of myopia and recommend the most appropriate treatment plan.
How to Manage Myopia
Regular eye exams play a crucial role in monitoring eye health, especially for signs of myopia. Early detection is key, as it allows for effective management methods to control the progression of myopia. In this blog post, we will explore several approaches to managing myopia.
Orthokeratology (Ortho-k)
Orthokeratology, also known as Ortho-k, involves wearing rigid gas-permeable lenses at night while sleeping. These lenses help reshape the cornea, temporarily correcting nearsightedness. As a result, during the day, the wearer can enjoy improved vision without the need for corrective lenses. This method, known as corneal reshaping, has proven to be effective in managing myopia progression.
Soft Myopia Management Contact Lenses
Specialty-designed soft contact lenses have been developed to manage myopia. These lenses are FDA-approved and specifically designed to reduce the axial length of the eyeball, effectively slowing down the progression of myopia. They offer superior control compared to other management options available.
Medication
For individuals who prefer not to wear contact lenses, low-dose atropine drops can be an effective choice. Atropine drops help to relax the eye muscles, reducing strain and controlling myopia progression. This medication can also be used in combination with Ortho-K or soft myopia management contact lenses for enhanced results.
Outdoor Time
Spending more time outdoors can have a positive impact on myopia progression. Studies have shown that increased outdoor time can reduce the risk of developing lifelong nearsightedness. However, it's important to ensure proper eye protection. Individuals should wear sunglasses that protect their eyes from UVA and UVB rays to minimize potential harm.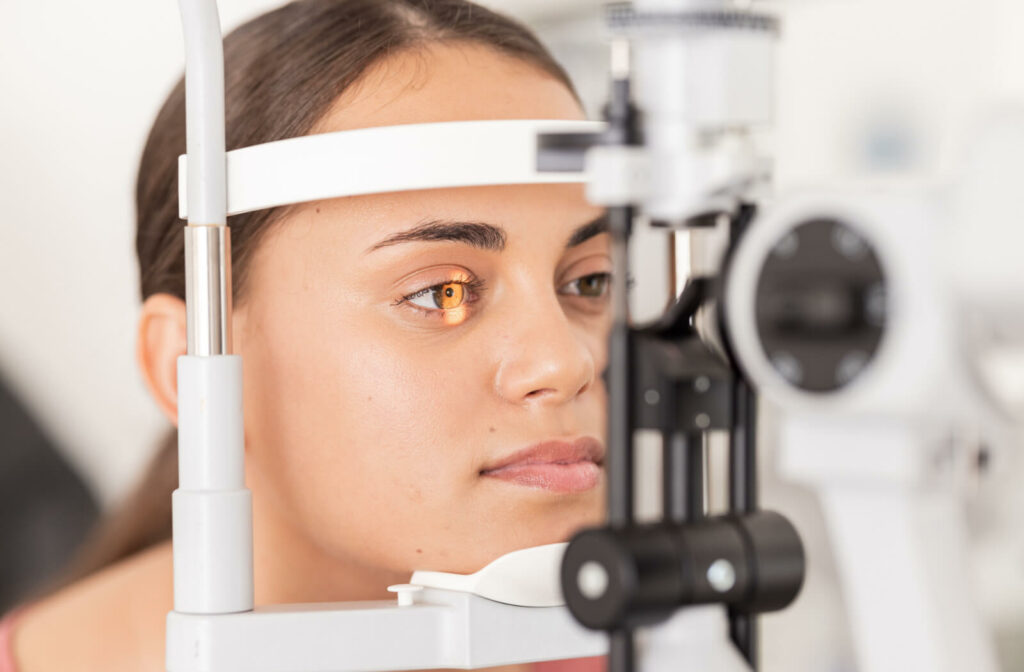 Understanding Axial Length and Myopia with Fort Myers Eye Associates
Understanding axial length and its role in myopia is essential for proper diagnosis and treatment.
At Fort Myers Eye Associates, our team can help you determine the best course of action for your vision needs. We use modern technology to measure axial length and provide personalized treatment plans to help you achieve clear vision. Contact us today to book an appointment.